What's New
Posted on: Mar 18, 2019 at 7:01 AM
Happy Birthday Julie - Hi to Dave! Hope you guys are doing well.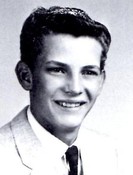 HI PAM, A VERY HAPPY B DAY. SORRY FOR EARLIER COMENT. D.G.H. DGHDGH@AOL.COM

Central High School Class Of 1961
Page has been added or updated:
Homepage
.
Happy Birthday TRUMAN - hope all is well with you
Hi, Sandy. Happy birthday! As it happens, now that I'm retires from the construction business, I'm also doing extra work out here. I also have a novel published. Keep busy!
Posted on: Dec 10, 2018 at 8:44 AM
Happy Birthday Mary Anne - a day late, but still well wishes!
Happy Birthday Dave - Hope you had a great day!
Happy Birthday Laurae - a little late - Sorry!
Happy birthday---make it a good one. Ron Gruwell
Posted on: Sep 19, 2018 at 3:48 PM
I hope you're not too badly affected by the storm, Richard, and most of all, I hope you're having a happy birthday!