In Memory
Barbara Carlson (Hanson)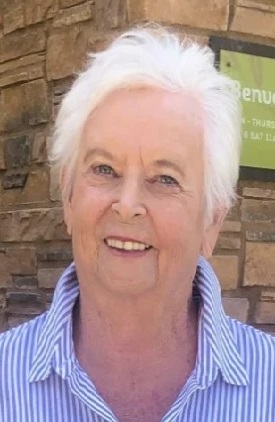 Barbara Sue (Carlson) Hanson, 79, passed on September 2, 2022. She was a long-time resident of Chino Hills, CA.
A Celebration of Life gathering is planned for October 23, 2022 from 10:00am to 1:00pm at Los Serranos Golf Club in Chino Hills.
Barbara was born on May 6, 1943 to Gorman and JaVon Carlson in Grand Forks, ND. She graduated from Central High School in Grand Forks in 1961. She married her high school sweetheart, Richard Lorn Hanson in 1960 and after finishing high school, moved to California. She is preceded in death by her parents; brother, Danny Carlson; sister, Cathi Woody; first husband, Richard Hanson; and second husband, Donald Cave. She is survived by sisters, Nancy Obregon and Kris Monroe; daughter and son-in-law, Jodi and Jeff Taylor; son, Cameron Hanson; 4 grandchildren, Devin Calderon, Alec Hustad, Camille Wheeler and Casey Hanson and 5 great-grandchildren.
Barbara loved her family and joined them frequently for celebrations, vacations, visits and anything fun that came along. She loved meeting new people and if you became part of her circle, you had a friend forever. She was independent, savvy, quick witted and generous. She showed us the importance of enjoying the moment and living life to the fullest. You could always count on Barbara having a glass of wine with her and some sports on TV! She was serious when the occasion called for it but having fun and a laugh was much more her style. Barbara's favorite place was the Parker Strip on the Colorado River riding fast in the boat with the wind in her hair. She had a lot of "hot cars" over the years including a couple of vintage Corvettes and some swanky Cadillacs. She had a long career as a Business Manager with Glendora Unified School District and made many lasting friendships there. At the age of 50 years old, Barbara had kidney cancer and gratefully she recovered quickly. Following that experience, she organized an annual golf tournament of up to 50 participants to raise money for cancer research. The "Annual Barbara Imitational", ran for 14 fun filled years. She loved to golf and was a member of the El Prado Women's Golf League where she golfed weekly and had many good friends. She wouldn't mind me telling you, she has two "Hole in One" accomplishments to her name! She was a life-long Dodger fan and had season tickets for many years. She also loved international travel and had visited more than 15 countries after her retirement. She will be missed by family, friends, colleagues and especially her grandkids and great grandkids that shared such a special bond with her.
In lieu of flowers, donations can be made in Barbara's name to Southern California Golf Association Junior program, www.scgajunior.org or St Jude Children's Research Hospital, www.stjude.org.