In Memory
Meredith Olufson (Dubuque)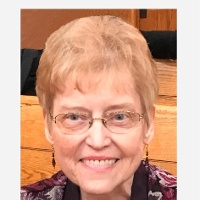 Meredith R. Dubuque, 76, passed away Sunday August 11, 2019, at her home in Grand Forks.
Meredith Ruth Olufson was born February 4, 1943 in Grand Forks, ND, the daughter of Henry & Emeline (Kroll) Olufson. She attended Rye 30 school through 8th grade & then attended Valley Junior & Central High in Grand Forks, graduating in 1961. In 1965, she graduated from UND with a BS in Medical Technology. She was employed by UND for 8 years before becoming a full-time farm wife & mother, spending many hours volunteering as Picture Lady (Art Appreciation) & Room Mother for her daughters' classes. She was also a Girl Scout leader and once had over 1000 cases of Girl Scout cookies in her garage waiting to be sold.
Meredith married Dan Dubuque in 1965. They lived on the Dubuque family farm where they raised 4 girls. She then returned to work & enjoyed a 20-year career in the lab at United/Altru Hospital. She was a lifelong member of United Lutheran Church, where she was a member of ULCW & volunteered her time helping in any way she could. She was a nearly 50 year member of Brenna T-N-T Homemakers Club as well as serving as President & Secretary of the GF County Homemakers.
Meredith is survived by: Daughters-Kathy (Perry) Smestad, Fordville, ND, Debbie Dubuque, Grand Forks, Michelle Shumate, West Fargo, ND, Amy (Dale) Twedell, Grand Forks. Grandchildren-Holly (McHale) Bjerke, Megan (Jon) Tweet, Matthew & Andrew Ogaard, Christian & Michael Shumate, Kaitlyn & Rylan Twedell. Great-grandchildren-Lydia & Paige Bjerke, Hank & Sadie Tweet, Brother-Ted (Gayle) Olufson, several nieces, nephews, & cousins.
Preceded by: her parents, brother Larry Olufson, former husband Dan Dubuque.
In lieu of flowers, memorials may be made to: United Lutheran Church (ULCW or Radio Fund) 324 Chestnut St, Grand Forks or to Altru Hospice P.O. Box 6011 Grand Forks, ND 58206-6011 The family would like to thank Dr Roed & Altru Hospice, (especially Desiree & Brenna) for the care & comfort provided to Meredith.