In Memory
Cheryl Joy Odegaard (Gilbertson)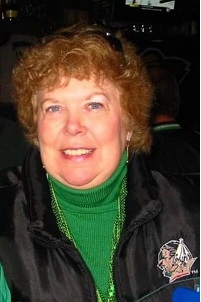 Cheryl Joy Gilbertson (Odegaard) passed away at Good Samaritan Nursing home in Larimore, ND on November 11, 2022, after a long battle with Dementia. She passed away peacefully, surrounded by family.
Cheryl Joy was born on June 6, 1943 in Fargo, ND to Oscar "Ockie" and Gladyce Odegaard. She grew up in Grand Forks, ND and was a 1961 graduate of Central High School and attended Aaker's Business College.
Cheryl Joy married Ronald Gilbertson on August 18, 1962 in Grand Forks ND. Together they had two sons, Paul and Chad.
Cheryl Joy worked as a secretary with EAPC for over 30 years. She later worked as an Administrative Assistant for the University of North Dakota Men's Hockey Team, which helped grow her love for hockey. She and Ronnie would attend as many Sioux hockey games as they could, home or away.
Cheryl Joy enjoyed going to the lake, spending winters in Arizona, going on the hockey bus trips and being a member of the Women's Red Hat Society.
Cheryl Joy was a devoted mother and grandmother. Her biggest passion and proudest accomplishment were her family. She loved to spoil her grandchildren and great-grandchildren any chance she got. She will be deeply missed by all.
Cheryl Joy is survived by her loving husband, Ronald Gilbertson, her sons Paul Gilbertson (Julie) of Grand Forks, and Chad Gilbertson (Sheri) of Manvel, her brother, Rodney Odegaard (Cathy) of Anacortes WA, her six grandchildren and six great-grandchildren.
In lieu of flowers, memorials are preferred to go to the Dementia Society of America: dementiasociety.charityproud.org.
Memorial Services will be 2:00 p.m. Thursday, November 17, 2022 in Amundson Funeral Home, Grand Forks. Visitation will be for one hour prior to the service in the funeral home.