In Memory
Dennis Magnusson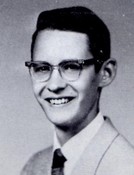 Dennis W. Magnusson, 68, of Grand Forks, died Saturday, March 24, 2012 at Altru Hospital in Grand Forks.

Dennis was born July 16, 1943, the son of Norbert & Ethel (Taylor) Magnusson in Grand Forks, where he grew up and attended schools. He later attended UND and served in the US Marine Corp.

Dennis married Myrna Grande on November 20, 1970. He worked as a Certified Pistol Trainer and Ace Security owner for numerous years.

He loved his constant canine companion, Josie, and playing with all his grandchildren. He also enjoyed hunting and fishing.

Dennis is survived by his wife, Myrna; daughter, Shaylee (Ben) Biedrzycki; grandchildren, Seth Magnusson, Brady and Emersyn Biedrzycki; brothers ,Mike and Hal Havisto; Step-father, Roy Havisto.

He was preceded in death by his parents, Norbert and Ethel; Biological mom, Lila; son, Leon; and a sister, Char.

FUNERAL SERVICES: 11:00 a.m. Thursday, March 29, 2012 at Sharon Lutheran Church 1720 S. 20th Ave. in Grand Forks.

VISITATION: 5:00 - 7:00 p.m. Wednesday, March 28, in Amundson Funeral Home 2975 S. 42nd St. in Grand Forks. Visitation will continue one hour prior to the service at the church.

MILITARY HONORS: ND Army National Guard Funeral Honor Team.

INURNMENT: Memorial Park South Cemetery, Grand Forks, ND.