In Memory
Karen Johnson (Mondry)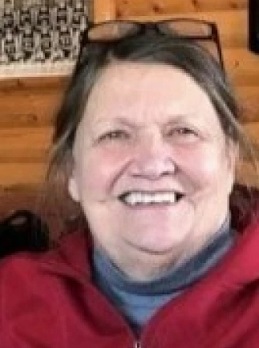 Karen Belle (Johnson) Mondry, age 78 of East Grand Forks, MN, formerly of Nevis, MN, passed away Wednesday, February 9, 2022 at Altru Hospital in Grand Forks.
Karen was born on July 10, 1943, to Walter and Agnes (Haraldson) Johnson in Grand Forks. She graduated from Grand Forks Central High School and earned a degree in speech pathology from the University of North Dakota. She spent several months traveling through Europe and Mexico before becoming a flight attendant for Northwest Airlines, and then later working as a speech pathologist for Grand Forks Public Schools and St. Mary's Catholic School.
After marrying her beloved husband John Mondry, she happily settled into life on a farm in Ardoch, ND. They eventually moved with daughters Molly and Missy to Nevis, MN, where she loved her life drinking coffee by the lake, visiting with friends and family who would stop by. Karen had talent for finding fun and adventure in everyday things–foraging for wild berries, scouting the best junk shops, driving forest roads trying to spot lady slippers and black bears. She was a tenderhearted lover of animals; she rescued stray cats and dogs and mended the broken wings of birds. She loved to laugh and was a perfect foil for her very funny husband, John. She was happiest of all when snuggled up with her grandchildren or laughing at their antics at the beach or in the yard. She loved to cook and bake and swap recipes.
She loved God above all and taught her family how to be faithful and prayerful. She was a warm and generous friend and a treasured wife, mother and grandmother.
She was preceded in death by her husband John Mondry, father Walter Johnson, mother Agnes Johnson, and sister Lynda (Robert) Evenson. She is survived by her brother Walter (Renee) Johnson, her daughters Molly (Jarod) Senger and Melissa (Silas) Pera, and by her 11 grandchildren who know her as "Munga": Mary Therese Gray, Faustina Gray, Thomas Gust, Joseph Senger, John Seger, Jude Senger, James Senger, Joachim Senger, Janie Senger, Augustine Pera, and Leo Pera.
Mass of Christian Burial will be Monday, February 14, 2022 at 11:00 A.M. at St. Mary's Catholic Church of Grand Forks. Visitation will be for one hour prior to the service at the church. Internment will take place at a later date.
An online guest book is available at: www.tollefsonfuneralhome.com