In Memory
Larry Grina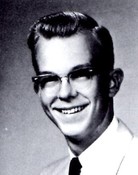 Larry Grina, 77, of Chesterfield, went to be with the Lord on Thursday, December 31, 2020. He is survived by his loving wife, Marilyn Grina; daughters, Kathy Belske and Kristen Kruse; two step-sons, Jim Hall and Michael Hall; grandchildren, Gwenn, Lily, Chloe, Tyler, Jackson, Abby, Ryan, Sara, Jake, and Danny; and brother, Jim Grina. A memorial service will be held on a later date. In lieu of flowers, the family suggests that memorial contributions may be made to Chester Presbyterian Church, 3424 W. Hundred Rd, Chester, VA 23831.
A side note that I received from Lynn Larsen Class of 1961:
We just received a Christmas card from Marilyn Grina in which we learned that Larry Grina, one of our CHS classmates, passed away last year on New Years Eve. Larry was a friend of mine beginning in first grade at Belmont. When my family moved from the Belmont area to University Ave & Washington grade school, Larry & I were not in touch, & by high school we were in different social circles - but still friends. Then he & I were both in chemistry together at UND & in grad school at Univ of Washington, Seattle. Later, he worked for Texaco in New York, & we were able to have lunch with him in the area when we were visiting our daughter at Vasser. Still later, we were both living in Virginia & we kept promising to get together, but just never made it. We moved to Maryland when my wife became a pastor at a church there, & while there Larry & Marilyn stopped by to visit on their way between their home in VA & his daughter's place in PA. Through all those adult years we did keep in touch through Christmas cards.
Please post Larry's obit on our class website.