In Memory
Roy Wentz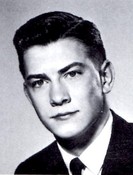 Roy Alan Wentz
Roy Alan Wentz, 67, Davis, IL., died Wednesday evening, November 10, 2010 at home with his wife by his side.
Born July 24, 1943 in Grand Forks, ND, the son of the late Frank and Viola Brenna Wentz. On June 26, 1962, he married Pamela Mary Edinger of Grand Forks, who survives.
Roy graduated from the University of North Dakota in 1967 and was an executive in the dairy and food industry for over 40 years. He served in the US Army in the 1960's.
Survivors include daughter Michelle (Ian) Brockman, Simpsonville, SC; son Michael (Monica) Wentz and grandchildren, Clarissa and Sophia Wentz, all of Waukesha, WI; son Matthew (fiancée Jennifer Tufts) Wentz, Greer, SC. and brothers Ray Wentz, Alameda, CA. and David Wentz, Oakland, CA.
He was preceded in death by a sister, Beverly Johnson of California.
A private memorial for immediate family was held at his home on Friday, November 12, 2010.