Central

High School




Class Of 1961
Hi Everyone!
Hope all are Healthy and Happy!
What strange times we live in . . . I wonder if in 10 years we'll look back on this and think, "Hey! This mask stuff reminds me of the "Bug Hats" we wore in the 50's! Remember all of that? - we all wore them! And every week the Health Department would screen kids looking at them with a black light. If you had ringworm, they would shave your head! Everyone was panicky back then, too.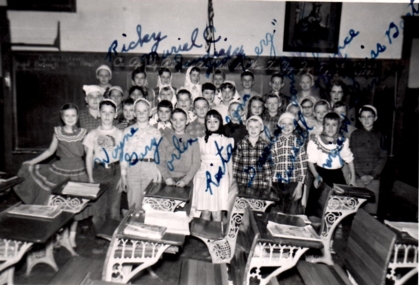 This is a picture of Grade 5 Washington Elementary School - Miss Barto - like 1955 or so - all had a headcovering of some sort. Didn't seem like a huge inconvenience - we just dealt with it. Hang in there - tough old folks like us will get through this.
I've been talking to Dean Schroeder, Class of '60. They had to cancel their 60th reunion plans due to this crazy virus. They did so, and politely asked if we (Class of '61) would mind if instead of completely cancelling it, they would just postpone it for a year. We could have a combined reunion for the Class of '60 - the class before us. I am lobbying for that to happen. Also - we should include St James HS grads in our plans. That soulds like a great time!
Stay well everyone!
See you in 2021!!!
Lance
Welcome to the
Grand Forks, North Dakota
Central High School
Class Of 1961
web site.
If you are a member of the Class of 1961, Grand Forks Central High School, please sign in with your e-mail and a password. On the top and the left side of the website are listed various pages for you to review. Please take time to update your profile. You can add a video (contact the administrator for instructions) or an updated picture of you and your family to your profile. You can also chat with your classmates; view other classmate profiles; review the missing classmates page; or review the "In Memory" section listing all deceased classmates.
Please review the "Missing Classmates" section and inform us if you know how to contact any of these folks. Also review the "In Memory" section and let us know of any additions, deletions, or corrections to this list. If you have further information concerning a deceased classmates, please send it to us. We will post obituaries when we receive them.
Any questions or suggestions, please e-mail the webmaster, Lance Twedt